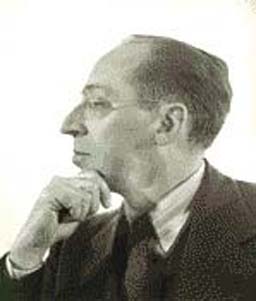 Aaron Copland
Born: Brooklyn, New York,
November 14, 1900
Died: North Tarrytown, New York,
December 2, 1990
Aaron Copland is recognized as one of the preeminent American composers. He played a major role in American music for almost seventy years as composer, conductor, teacher, writer and lecturer, and was a founder of the American Composers Alliance and the Tanglewood Festival. Copland is probably best known for his concert and ballet works. He began his teaching career as a lecturer at New York's School for Social Research in 1927. In 1938 his book, What to Listen for in Music, was published, drawing material from these lectures.
In 1928, with fellow composer Roger Sessions, he launched an influential concert series that presented experimental contemporary composers including Marc Blitzstein, Paul Bowles, Theodore Chanler, Carlos Chávez, Roy Harris, Darius Milhaud, Walter Piston, Virgil Thomson, as well as his and Sessions' original works.
Copland's association with the Berkshire Music Center and the Tanglewood Music Festival in Massachusetts became world renowned. He worked and taught there for several decades. Copland's important works include Appalachian Spring, Concerto for Piano and Orchestra, Concerto for Clarinet and Strings, Fanfare for the Common Man, ballets Billy the Kid and Rodeo.